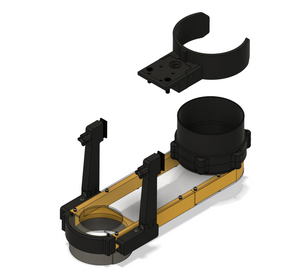 Are you confused by the many options we have for buying our v9 boot for your Onefinity?  Well... here's the solution. 
Our v9 Bundle Includes:
This is all picked out and ready to ship.  All you need to provide is the 4" flex-hose and the Onefinity machine.
Dustboot V9
I recently purchased the v9 dust boot from PwnCNC. I am really happy with the unit, the engineering is very well thought out and it works beautifully. It was easy to assemble, had to clean a little bit of the 3D printing from a couple of the parts to aid with the assembly, but nothing major. I had it attached to my Onefinity within 30 minutes with minor adjustments for my spindle. I would strongly recommend this dust boot - if all their products are made this well, I'd recommend any of them!
pwn v9 boot
Had to file down alignment tenons on back of the arms that hold it to my cic——after a little adjustment worked great, catches 95% of the dust milling dbf.
Dust Boot V9
Outstanding product works very well and has helped my dust accumulation.