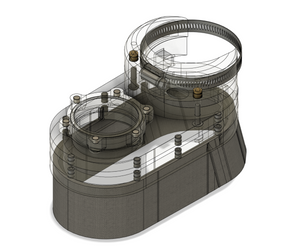 Digital Files Only:
v10 maker files includes all of the digital part files needed to make your own dust boot.  This includes the acrylic dxf, boot, face, 2.5" hose adapter, and wing stls.  Acrylic and brush material are both available for purchase.
Digital Files and Makers Pack:

Includes files as well as the various screws, heat inserts, and magnets to make it yourself.  You'll need to purchase 1" brush material separately.  All you need to do is  3d print the parts and cut your Acrylic.
Notes:  If there are any updates to this design, you will have access to those by purchasing this product.  We'll send out an email when/if these maker files are updated. 
Fast fulfillment!!!
Received the necessary hardware to complete my dust boot after 3D printing the parts! Highly recommend!
80mm, 4.0" hose intake
It's great to have these "for Makers" editions as I'm living and operating overseas (EU). No shipping cost or import duties, and thanks to the well designed and documented models, I'm 3D printing and laser cutting minutes after purchase. Apart from that, the v10 works great on my Onefinity with PwnCNC Air cooled spindle system. Recommend it!